This girl contours her breasts like a boss.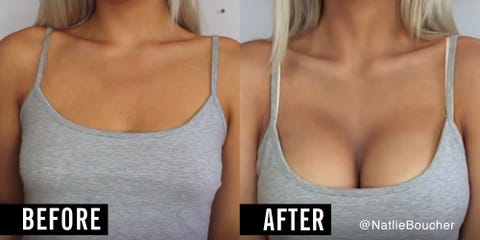 After watching the video on loop (and gathering the product call-outs in her captions on Instagram and YouTube), check out this breakdown of what Boucher did to boost the size of her breasts:
1. Create shadows with contour. Boucher outlined her breasts, and drew "V"s at the base and sides of her neck, two stripes outlining her collarbones, and a vertical line along the sides of her armpits using a foundation stick (Maybelline New York Fit Me Foundation Stick in "Cappuccino") that's a few shades darker than her natural skin tone.
2. Highlight with a lighter contour cream. She used a contrasting light shade (the lightest shade in the Australis Cream Contouring Kit) to highlight within the contouring.
4. Blend some more with a makeup sponge. That way there aren't any obvious lines.
5. Set the contour and highlighter with pressed powder and a huge fluffy brush. Boucher used Australis Fresh and Flawless Pressed Powder in "Medium Tan."
6. With a darker powder, retrace where you originally contoured. Boucher used the middle shade (a deep taupe) in the Australis Contour Kit to outline in between her breasts, the tops of her breasts, the sides of her collarbones, and her outer armpits.
8. Top your original highlighter with a shimmery pressed powder. Boucher used a fan brush and swiped it over Urban Decay Naked Illuminator in "Aura" to set and amp up the highlighter she applied in step 2.
9. Top the highlighter with even more shimmer powder. This will make features like the tops of your breasts, your shoulders, and your collarbones pop. Boucher used Becca Shimmering Skin Perfector in "Opal."
10. Add even more drama with a push-up bra. Boucher boosted her results by slipping on a push-up bra from Cotton On Up2 Push-Up Bra.
Boom: Bigger boobs in six minutes! Dayummmm.