EXCLUSIVE INFORMATION SESSION ON
BUSINESS SETUP OPPORTUNITIES IN DUBAI/UAE
No income tax
No local partner requirements
World-class banking
No statutory audit
Family residency visa
Expo 2020
PROPERTY INVESTMENT IN DUBAI/UAE
Invest in off-plan apartments, villas, land, commercial spaces for high returns
The most stable market in the Middle East
High rental yield
Family residency visa
Guaranteed returns on investment
Ready to move in properties
WORKSHOP SESSION HOSTED BY SMART ZONES
15TH APRIL, 2018 ( SUNDAY )
VENUE: FOUR POINTS BY SHERATON – LAGOS
TIME: 1:00 PM – 5:00 PM 
Register now to block your slot. Limited seats available.
CLICK BELOW
https://www.eventbrite.com/e/dubailagos-workshop-by-smart-zones-in-collaboration-with-damac-tickets-44546448627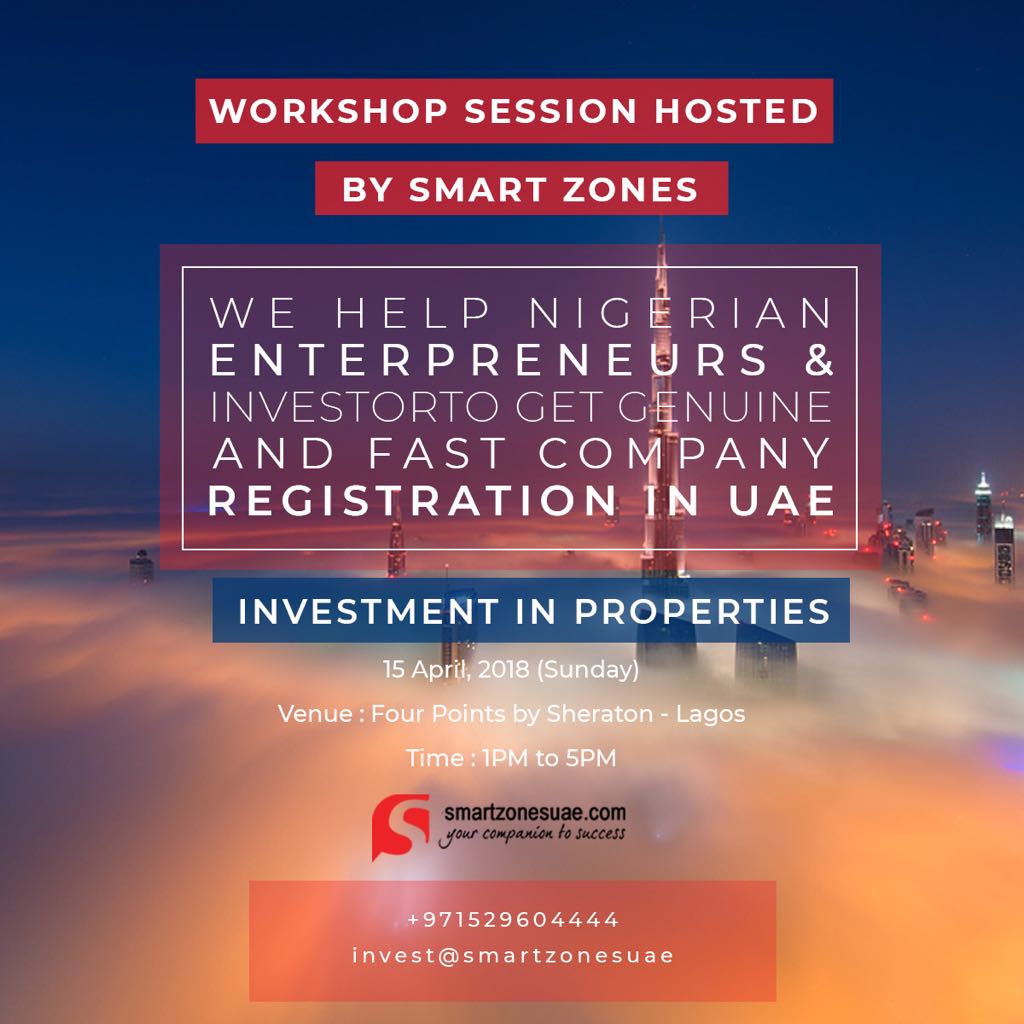 WHY CUSTOMERS IN NIGERIA LOVE SMART ZONES
 Our main goal is to help Nigerian entrepreneurs & investors to get genuine & fast company registration in Dubai. Dubai is the gateway to the Middle East & Africa. It is the melting pot of new age business culture. With Dubai World Expo 2020 around the corner, it is never a better time to run a business in Dubai. Smart Zones is one of the leading business setup company in UAE. If you have a dream to set up a business in Dubai, come to us and we will assist you in realizing your dream.
BENEFITS OF BUSINESS SETUP IN UAE
100% Ownership.You will be the sole owner of your business.
Zero Income Tax. UAE is blessed with Zero Corporate or Personal Income Taxes. So you get to enjoy your profits.
World Class Banking & Infrastructure. Choose from local or international banks for your onshore or offshore banking operations.
Expo 2020 will boost tourism and other parts of the economy as the government spends a predicted $7 billion on infrastructure, with the benefit expected to trickle down to other industries. That spending will equate to a 0.5% point increase in GDP in the years 2016-2019. Given the relatively small size of Dubai's economy, the economic impact will be quite large.
In terms of economy, it is widely agreed that Dubai is one of the most progressive cities on the planet. The Brookings Institution, a think tank located in Washington D.C., released a report that detailed the top cities in terms of leading economic growth for their respective nations — Dubai came in at 5th in 2014, a large improvement on its previous rank of 18th. This drastic improvement was largely credited to the 4.7 annual increases in employment.
While the national increase in gross domestic product per capita was 1.6%, Dubai achieved an impressive 4.5% increase. These figures make it unsurprising to see how many investors are considering setting up a business or registering a company within Dubai.
To further entice offshore company registration in Dubai, several Free zones have been established to provide an investor with lower costs through unique economic regulations and benefits. These economic hubs were introduced by the government to draw new investment and stimulate the economy. Setting up a Free zone company allows you to operate within one of the most rapidly growing economies in the world, and there are nearly limitless investment opportunities available with the local economy and markets experiencing massive growth.
Dubai as a safe and secure city, a trade hub, a major tourist and investment destination renowned for its world-class infrastructure, ease of doing business and efficient and reliable regulations in which to operate.
With the Expo 2020 approaching and with many mega projects in the pipeline, Dubai continues to be an attractive option for real estate investors. With seemingly limitless potential, Dubai has overtaken cities like London as the most preferred property investment location for 2017.1
So, if you've taken the decision to invest in Dubai real estate, your next step is to decide the type of property you want to buy. Depending on your budget, you can look into purchasing from various property types available, such as apartments, villas, townhouses and land. However, apartments hold great appeal as they suit a broad spectrum of budgets and requirements.
About SMART ZONES UAE:
At Smart Zones UAE, Our main goal is to help individuals to get a proper and easy Company Registration in Dubai/ UAE . Dubai is now flourishing with various new business organizations of different sectors.
Our team of experts provides assistance to various clients for Company formation in Dubai in various ways and with different methods. We offer assistance for both nonfree zones and free zone companies in Dubai/ UAE as well as Bank account opening assistance and offshore company incorporation.
About DAMAC PROPERTIES
DAMAC Properties has been at the forefront of the Middle East's luxury real estate market since 2002, delivering luxury residential, commercial and leisure properties across the region, including the UAE, Saudi Arabia, Qatar, Jordan, Lebanon and the United Kingdom.
Making its mark at the highest end of stylish living, DAMAC Properties has cemented its place as the leading luxury developer in the region, having delivered over 20,230 homes, with a development portfolio of more than 44,000 units at various stages of progress. This includes 13,000 hotel rooms, serviced hotel apartments and hotel villas that will be managed by its wholly – owned DAMAC Hotels & Resorts.
invest@smartzonesuae.com   www.smartzonesuae.com ;
Phone: +971529604444